Goma Kido

Pronounciation: &nbsp GO-MAH KEE-DOH
Age: &nbsp 11 Years
Species: &nbsp Human
Data Size (G): &nbsp 35
Weight: &nbsp 38 Kg (83 lbs)
Eyes: &nbsp Green
Hair: &nbsp Red
Other Attributes: &nbsp Freckles and black fingernails
Crest: &nbsp Reliability
Partner: &nbsp Jyoumon

Details: Hmmm... &nbsp Here's something different. &nbsp Since Joe is stuck as a Digimon, Gomamon has to be the human. &nbsp And even though it is a challenge, Goma seems to be taking everything well in stride. Good form him!

&nbsp It is a good thing that this former Digimon has such a Happy-Go-Lucky personality --It may be the only thing that is getting through his situation. &nbsp But even if the Digi-Destined manage to defeat Piedmon in the end, where would that leave Goma? &nbsp Or Jyoumon for that matter?



The Crest of Reliability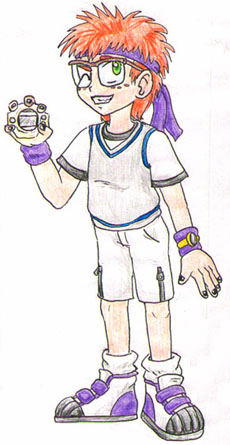 Back to the Profiles Page.
Back to the Fanfiction Page
Back to the Home Page