Karimon

Pronounciation: &nbsp KAH-REE-MON
Digimon Level: &nbsp Rookie
Digimon Group: &nbsp Vaccine
Digimon Type: &nbsp Animal
Data Size (G): &nbsp 22
Technique: &nbsp Quick Scratch
Second Technique: &nbsp Soothing Purr
Special Ability: &nbsp None
Description: &nbsp Karimon is the quietest, most solemn Digimon that I have ever known. &nbsp Even more so than Gabumon! &nbsp She rather not fight if she can help it, but her Quick Scratch attack can do serious damage, and she can calm everyone down with her Soothing Purr --she can even put the enemy to sleep with that! &nbsp It's kinda like she knows more about what is going on than she is letting on.

&nbsp To Karimon, being a Digimon is simply the way that things have to be for a moment. &nbsp She thinks that the situation is cool, but she is not in any sort of panic. &nbsp She would rather wait and see what happens.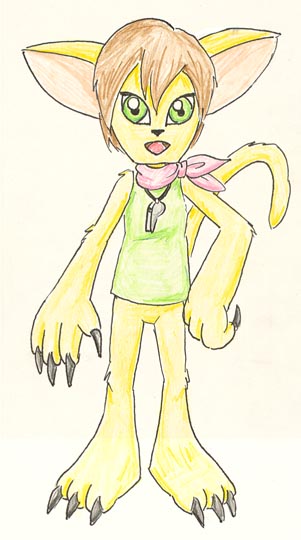 Back to the Profiles Page.
Back to the Fanfiction Page
Back to the Home Page