Meimimon

Pronounciation: &nbsp MAY-MEE-MON
Digimon Level: &nbsp Rookie
Digimon Group: &nbsp Data
Digimon Type: &nbsp Vegetation
Data Size (G): &nbsp 22
Technique: &nbsp Stinging Nettles
Second Technique: &nbsp Pollen Spray
Special Ability: &nbsp None
Description: &nbsp Meimimon's biggest concern with being a Digimon is finding an outfit that goes with her complexion. &nbsp She's not the toughest Digimon around, but don't ever under-estimate her. &nbsp Her Stinging Nettles attack and Pollen Spray can really get to a guy. &nbsp She does all right though. &nbsp She's a trouper.

&nbsp Meimimon wants to become human again, if for no other reason than that she thinks that her new form is a bit on the tacky side. &nbsp She whines and complains as she always do, but when it comes to protecting Palmon, she's more than willing to do whatever she can.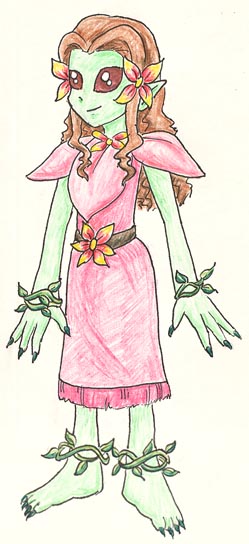 Back to the Profiles Page.
Back to the Fanfiction Page
Back to the Home Page