Soramon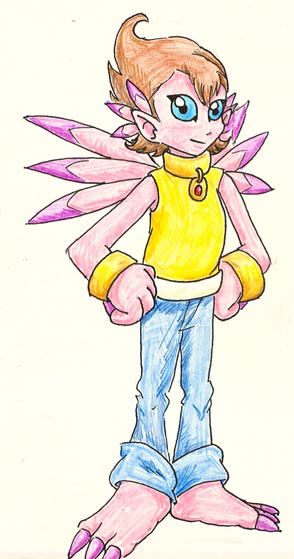 Pronounciation: &nbsp SOH-RAH-MON
Digimon Level: &nbsp Rookie
Digimon Group: &nbsp Data
Digimon Type: &nbsp Avian
Data Size (G): &nbsp 22
Technique: &nbsp Wind Blade
Second Technique: &nbsp Swinging Kick
Special Ability: &nbsp None
Description: &nbsp Pretty in pink is a good way to describe Soramon. &nbsp But that doesn't detract from her toughness. &nbsp She's more than ready to get down and dirty with the others. &nbsp Using her Wind Blade Attack or her Swinging Kick, she's more than capable of messing with the big bad boys.

&nbsp Soramon is excited about learning about Digimon first hand. &nbsp She figures that there is no better way to learn about her partner, Biyomon, than by sharing her experiences. &nbsp She realises the importance of becoming human again --so that she and the others could fulfill their role as the Digi-Destined, but she is planning on enjoying being a Digimon for as long as she can.


Back to the Profiles Page.
Back to the Fanfiction Page
Back to the Home Page